The new ad system has been launched and has been available for quite a number of hours. I'd like to hear some additional feedback from members other than what has been posted in the forums.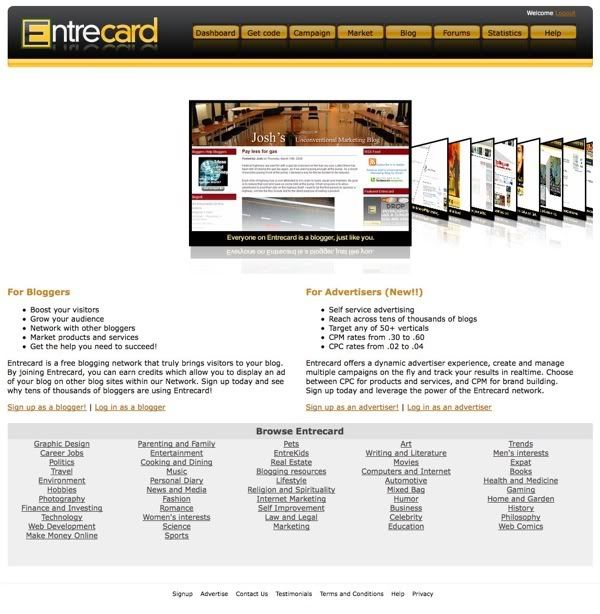 New Entrecard Homepage
The consensus that I am receiving is that members weren't quite ready for the sudden change and are expecting "something" in return for displaying paid ads on their site. If you were expecting direct payment like AdSense or any other network, you couldn't be further from wrong. Credits are the backing of the system and that won't change. Read the forums, read the blog posts, and you'll find that they are planning (and this has been in the works since the initial plans) and it will explain that they need funding, they need to reduce the number of credits in the system.
Don't assume that just because you can't see any improvements that they aren't being made. As I previously stated, it costs a ton of money to operate the site and without that, it wouldn't exist. How many other online services do you know that remained in operating for more than a year with no premium/paid/sponsored service (although Entrecard did initially have some rounds of funding)? Not many that I can think of. Entrecard could have turned into a spam site if it had been purchased for ~$100,000 earlier and you wouldn't be receiving a single valid click through to your site and everyone that you met through the site would no longer be available for instant, easy contact.
Just because it says that you are a "beta tester" doesn't mean that tests haven't already been done. Think about the new changes as a way to balance the "world economy." It'll take a lot of work and testing to see what needs to be done and tweaked to get everything right. It'll take some expenses form the members and advertisers before you see any return. If you kept tabs on updates from the lead developer and administration, you would have noticed that updates were posted concerning bug fixes throughout the day and last week when the first rounds of updates/introductions were made.
Don't get ahead of yourself and assume that this model won't work. Yes, some of the numbers concerning cash out rates and amount needed for advertising and such might not have had the most testing involved when coming up with an exact figure, but you aren't the one in charge of the site, making the tough decisions.
How long did it take you to make your first thousand dollars with your blog when you added advertisement options? You could equate this to the amount required for Entrecard, but much, much higher. Assuming there have already been about fifteen advertisers site-wide, that means that roughly $150 has been spent. At the current rates, that'll barely purchase a few members' credits. They need to accumulate much more than that (at least a week's worth of earnings) before they can even start to consider the cash out rates (which I see as being at least half of what they were being sold directly through the site).
Remember this key fact - your blog is not a permanent part of the Entrecard network. Although you probably can't deal with the fact that these changes are happening, there
is always
the option of canceling your account or immediately removing the widget. I'm not saying that you should do this, but some members tend to think that their blog was started as a result of Entrecard, instead of their natural love for writing, sharing thoughts with other bloggers, and maintaining a part of them, online. Secondly, you are still in control of paid advertisements. You are under "no obligation" to approve or conversely, deny all paid ads that come through your account. This has been a commitment by the staff at Entrecard and with this change, that philosophy and motto has not changed.
Conclusion
Some of the facts may be harsh for you to deal with, but they are there. Please leave your feedback about the new system. I will be expanding the homepage of this blog to accommodate the large influx of new posts published here today and will be answering questions to the best of my ability as I can see the concerns that some are having.
Do you think these changes will help in the long-term or simply add to the number of "spam" blogs that have been entering the system?