The new
Entrecard Marketplace
, which wasn't launched too long ago, replaces the old marketplace that was built into the site. The look and format of the site is quite similar to other online marketplaces, like Craigslist. You will be able to manage advertisements and products being sold through the site.
A content is currently being run to help promote the new
Marketplace
, with up to 100,000 up for grabs - all you need to do is post an ad and create a blog post about the marketplace. 2,000 credits will be given to anyone who does this - only fifty people will be able to participate. Simply email Entrecard the link to your blog post.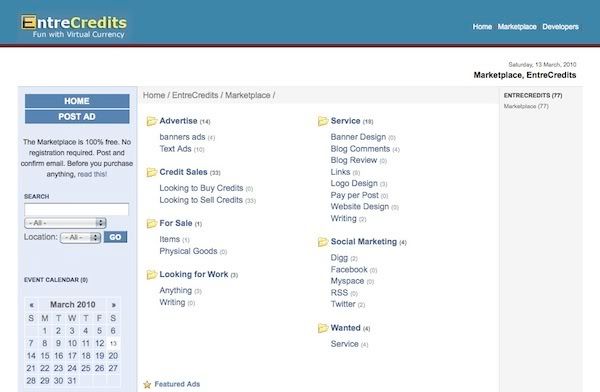 Another major change with the new Marketplace is the ability to
sell Entrecard credits
through the Market. One of the main concerns that still exists with the new Marketplace is that members will devalue the credits. In order to restrict this from happening, they have limited to accounts to just 100,000 credits. All accounts with more than this number of credits will have their credits removed from their account on March 31st, so now is the time to spend them.
For more details about the Market, please see the
FAQ page
.
What do you think about the new Market? Please let me know in the comments area below.