It's now been more than a month since the
Entrecard Market
was launched, and there are quite a number of listings in there. Because it has been a rather decent amount of time to determine what is available and what isn't, I'd like to make some comments on the system and give you an idea on how to extend your reach using the system.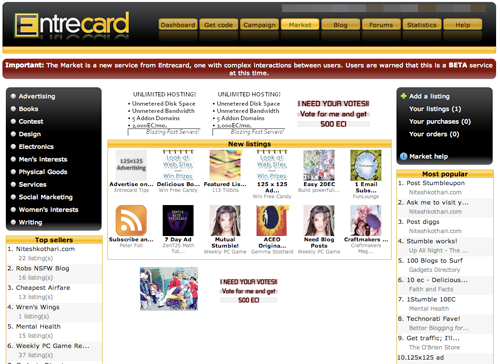 Be sure that you are logged in before reading this - this is a guide through the Marketplace area.
Everyone that is a member of Entrecard is automatically able to add listings, unless of course you have been banned from using the area. In most cases, you will be able to post an "unlimited' number of listings, meaning that you are able to earn an unlimited number of credits, depending on how much members are willing to spend and how inflated/deflated the value of credits is.
Assuming that there is a fluctuating value of credits when the new exchange system is officially launched, the Market should become a more viable area for people to earn credits and have a real value for what they are exchanging with other members. At this point, it is a "free" market, in that no money is spent, simply the time that you spent trying to earn credits. For this reason, not many high-value items have been placed into the system, other than a few
odds and ends
. This isn't to say that there aren't some more valuable items, like homemade creations that the person selling the item has to pay for materials and shipping costs, while the buyer only has to spend credits.
What People are Selling
At this time, the largest area for sellers is clearly 'Advertising,' which has many
marketing
services mixed in, like StumbleUpon submissions, Diggs, etc. There are more than five pages in this area of listings (approximately 240 listings), more than double the next largest area, 'Services,' which has similar items. Nearly every other category may only have a small number of listings, and this is to be expected by what the costs versus return value is.
Most Popular Areas
There are three areas that you can see the most popular items, starting with the category view, and the listings on each page. At the top of each page, you will see some higher-valued items, while at the bottom some Staff Favorites are chosen in each category. However, this is placed towards the bottom, so they probably don't get the extra views that they should or want to get.
The Top Sellers have up to 37 items in the marketplace, and this will likely grow with more consistent numbers if more members see the marketplace as a way to earn extra credits - translating into cash in the future. For example, while eBay or other online bidding/selling services offer the ability to market your service to others, there are often large selling fees and shipping costs that you must pay. With Entrecard, you can set the price at any height, and there will likely be someone that comes along and wants to purchase it. This will likely go into more effect once the conversion service starts.
Looking over the list of most popular items, StumbleUpon posts, blog visits, and Diggs are the top items, while the most popular category, Advertising-related items doesn't appear too frequently in this area. Perhaps this will change in the future.
Getting Listed
On the main page, to start listing an item, go to the right panel, click 'Add a listing' and proceed to add the information related to the item.
You will need the following to get started:
Title
Description
Category
Delivery Details - Details a buyer must provide for you to correctly deliver the product/service.
Price - Price in Entrecard credits per item.
Stock - Number of items you have or are able to sell.
Small Image - A 64x64 image of the item.
Profile Image - A 300x200 image of the item or a larger snapshot.
The item will appear immediately in the marketplace and you will have potential buyers within a few minutes.
Check the listing to be sure that all details are correct. You can change them at any time, although you wouldn't want to change them too dramatically after people have seen the item.
Returning back to the main area, you can view listings - clicking on a listing will bring up an area that allows you to "Feature this listing' - found in the sidebar panel.
Front Page, Top
- 1,995 credits/week - The premium spot, this places your 150x100 pixel advert right at the top of the front market page and your category page, and gives you the featured star in listings. (currently sold out).
Front Page, Center
- 995 credits/week - Places your 120x90 pixel advert in the middle of the front market page and gives you the featured star in listings.
Category Page, Top
- 995 credits/week - Places your 150x100 pixel advert right at the top of your category page, and gives you the featured star in listings.
Featured
- 45 credits/week - Marks your listing with the featured star.
These will all simply give you a more prominent location in the listings area, but doesn't really expose your listing to all members, other than those visiting the marketplace area.
When an item does sell, you have several options, which help give you some control over whether someone has paid and when you should begin 'shipping' an item. Remember that there is a tax applied for orders to maintain some level of control over credits.
Conclusion
If you have any other further questions or comments, please address them below. I'd like to hear some of your feedback and experience with the Market system and whether your items have/have not sold.
It is still in "beta" at the moment, so new features could be added in the upcoming time frame.